26.04.2018
FROM FIREWORKS TO FRAMER: IS SOFTWARE CHOICE GOOD FOR DESIGN?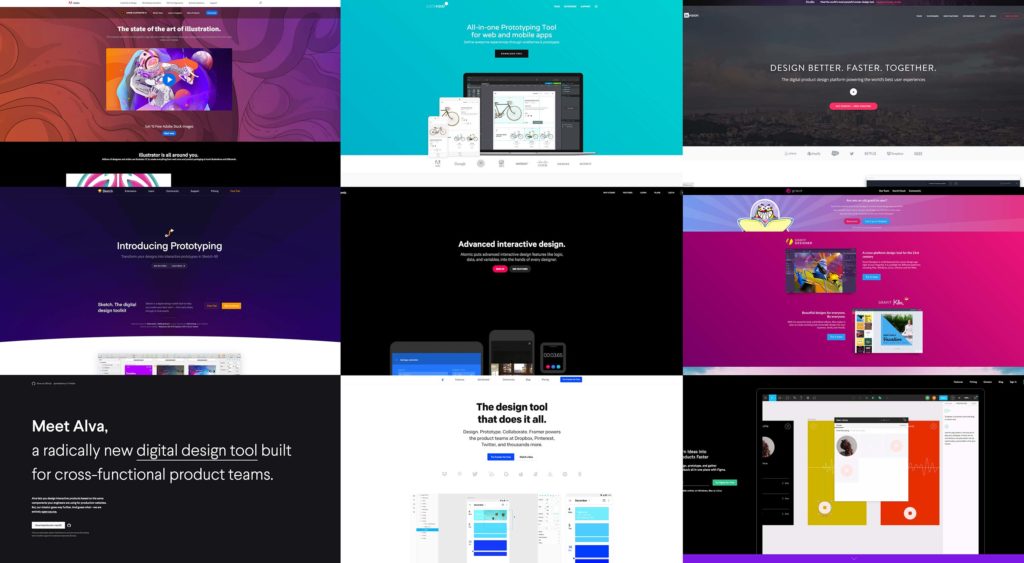 With a huge variety of software options available, the industry is fragmenting and collaboration is becoming increasingly hard for freelancers.
It wasn't all that long ago that web and product designers were presented with a choice: Fireworks, Illustrator, or Photoshop.
All owned by Adobe, they represented an industry that was dominated by one company. You either spent the large sum of money to buy the individual software or entire creative package, or used a lesser-known, less extensive (and expensive) software.
For a while, Adobe continued to innovate with this software, before beginning to rest on their laurels earlier this decade; it opened the door to new and inventive startups like Bohemian Coding—makers of Sketch—who very quickly began to gain a foothold on the web and product design industries. It drew users away from Adobe software at such a speed that they were forced to react. Similar new features were introduced to current software applications, as was a product design-specific software in the form of Adobe XD.
In more recent times we've seen the release of an incredible number of new product and web design tools: Figma, InVision, Framer, Gravit, Justinmind, Atomic, Alva, and Affinity Designer make for just a few of the companies to release competing design tools in the last few years.
The competitive element has pushed the product teams to innovate at never-before-seen levels. It's led to some neat and impressive features around collaboration, prototyping, optimization, and workflows. Not only has it resulted in the end-products being better for the designer, it's also lead to greater competition on pricing. Long gone are the days of paying hundreds of dollars up front for an Adobe software package. Many applications are now under $100, with others providing their software at a low monthly fee; others like Figma and Alva are entirely free to use for students and individuals.
With so much innovation and competition on pricing, it's hard to believe there can be any downsides to this more competitive industry. But as in any industry, where a demand is formed and publicized, money and investment follows soon after. Typically this wouldn't be a negative for the end user, however in the software industry there is more to consider.
Where once there was an industry standard software in Adobe (and later Sketch to some extent), the industry is now fragmented with designers all opting for different software and tools. It has formed an environment where there is great friction when collaborating, working with client files, and working in multiple teams.
Cross-platform compatibility of software—and often a lack thereof in the design industry—only compounds the issue further. No longer is it as simple as expecting a PSD at the end of a project, or syncing a Sketch file across a team. Instead there are so many options that there is no longer a standard format. SVG has its place but is far from usable as a format to share complex designs and prototypes, and collaborate across individuals and teams.
For the up and coming designers of the next generation, it's making for a complicated scene of design software. There's no longer a go-to option as there was with Photoshop and Sketch. While that often means there's greater scope for finding one more specific to your needs and desires, it can otherwise be somewhat overwhelming and off-putting for beginners. It gets even more confusing when a number of software providers maintain different pricing models, operating system compatibilities, and seemingly similar feature sets.
So where once we could suffice with one—possibly two—software applications, we now require multiple. For the freelance designer who is dropping in and out of teams and collaborating with new clients every week, the issue becomes magnified considerably.
To work this situation, they can now be expected to have access to most, if not all of this software and services. It becomes not only complex and overwhelming, but expensive too. It means having multiple applications open at once, resulting in a need for more capable and expensive Mac equipment. It means switching between tools you're not a fan of, and having to learn new features at quite some pace. And the subscription and up-front costs can land a hefty bill on top of other expenses like business overheads and complementary tools like Marvel and Zeplin.
The situation looks to intensify over the coming years. More and more new applications are launching all the time, with many releasing in just the past six months. Some will come and go, while others will be adopted by a large enough proportion of designers to survive.
In a growing industry with more new designers trying their hand at design every year, there's a place for most of these tools to survive and flourish. With that will come greater fragmentation and a negative impact on compatibility and collaboration. Teams will adapt and use a chosen software across the company. But freelancers and independent contractors will suffer the brunt of this development, and may eventually determine it as a factor to look to full-time work as a solution.
Unless there becomes a standout among this competing software, the situation looks set to continue driving innovation and competitiveness on price. But this will continue to worsen aspects such as collaboration as time goes on.
The design industry needs to develop some kind of solution. Whether that consists of an industry-standard file type, or a means to export designs to other software, is yet to be determined. Until then, freelancers will have to use workarounds and attempt to form some kind of system which allows them to switch between software and format dependent on client, company, and collaborators.