13.02.2017
Microsoft expands developer features for its Teams chat app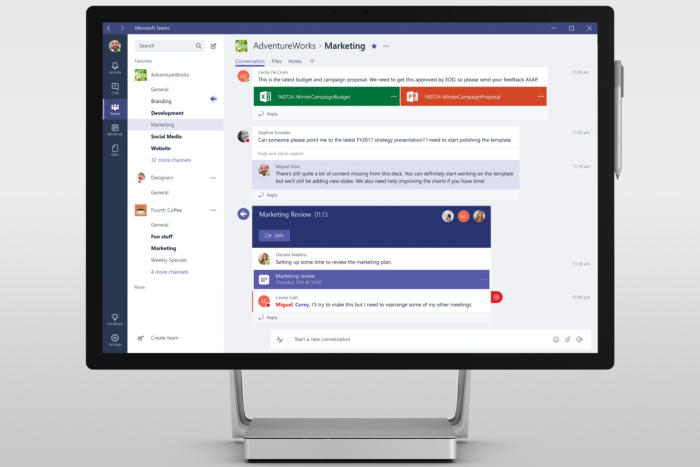 Third-party developers have new tools to play with when building integrations with Microsoft's Teams group chat app. The company announced a pair of new developer-oriented features on Thursday, aimed at giving greater utility to services that work with Teams.
Using the Microsoft Bot Framework, developers can now build bots that interact with users inside a channel, in addition to interacting with users in one-on-one private chats. In addition, developers integrating their applications directly into tabs within the Teams client can now give users a way to link their colleagues to content buried deep in the integrated app.
Improving developer opportunities is important for Microsoft as it looks to compete with Slack, HipChat, and other companies in the work chat market. Its other two major competitors have robust developer platforms that help users bring functionality from other applications they use into their chat conversations.
With the new Microsoft functionality, once a user ads a bot to a team, it's possible for people to interact with it in a private message conversation, in addition to invoking it inside a public chat. That's similar to what Slack and HipChat offer to their bot developers.
The Teams product allows developers to integrate their apps using Tabs, which offers a canvas for running web applications inside Microsoft's chat app. For example, Asana has a Teams tab integration that gives users a way to view shared tasks.
New developer functionality launched on Thursday lets developers provide users with deep links into applications running inside tabs. That means someone who wants to share a note that's nested deep inside a tab could be able to link directly to that content in a chat, rather than asking one of their colleagues to navigate all the way to it.
The added functionality comes as Microsoft approaches the planned general availability of its chat application. Teams, which is currently in public beta, is expected to go GA by the end of next month. An early survey of IT decision makers showed that some people are interested in adopting Microsoft's chat application over Slack.
However, it's still missing functionality relative to its other chat applications, like support for private channels inside teams.
The second to last paragraph has been changed to reflect the correct timeframe for general availability.