15.05.2019
Top 15 Tools and Resources for Web Designers and Agencies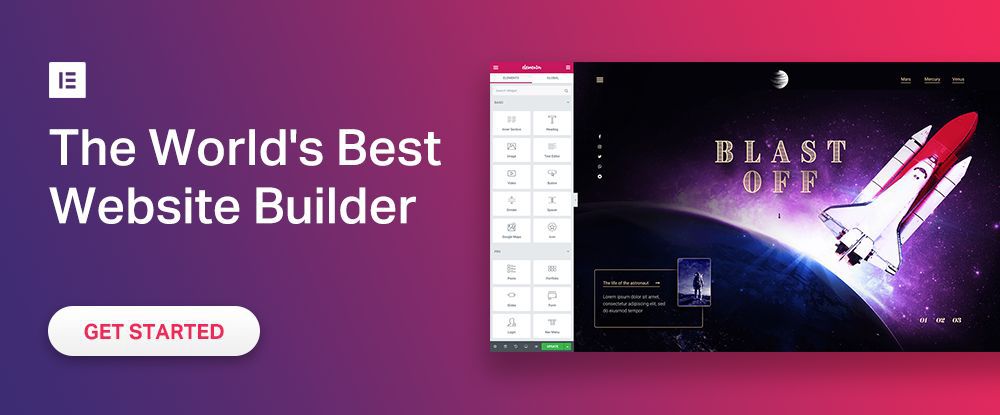 Design trends come and go. This makes it imperative for web designers and design agencies to keep a close watch. They need to know the tools and resources they're using to make certain everything is up to date.
Your tools and resources might appear to be keeping up with changing technologies. Yet, improved tools and more suitable resources keep popping up. So many, in fact, that it can at times become downright annoying trying to decide which tools to keep. and which to replace with something newer.
We can't stop the flood of new tools and improved resources, nor would we want to. We can, however, make life a little easier for you. We are recommending several of the best tools, apps, and resources out there.
Elementor is the ultimate & free WordPress page builder. With over 2M active installs, it's the most advanced drag & drop editor out there, used by professionals worldwide to create high-end designs in no time, without coding. Elementor comes with many built-in widgets to help you quickly build any part of your website: images, text, sliders, icons, testimonials, social media, animation and more.
Elementor works perfectly with almost any theme and plugin and will not slow down your existing website. You can start from a blank canvas or choose from over one hundred pre-designed templates that can be inserted to any page. The Pro version comes with super cool features like pop-ups, forms and theme builder which lets you design the header, footer and archive pages of your site.
The average freelancer spends almost one day per week on non-billable work—like invoices, expenses, tracking payments, and following up clients whenever a payment is overdue. But when you're paid for your expertise, time really is money. If you can save time by automating the running your business, you can spend more time doing the work that puts money in your pocket.
That's where an invoicing software like AND CO from Fiverr comes in. AND CO automatically generates invoices based on your contracts, proposals, and time tracking—all of which are available in the one platform.
Get reminders when it's time to invoice again, receive alerts when your client views your invoice, and accept online payments directly through your personal PayMe page. Set up recurring invoices so you can invoice clients with subscriptions without lifting a finger.
Say goodbye to manual invoicing. With AND CO, you don't need to spend more than 20 seconds sending an invoice, so you'll have more time to do the work you love.
Houzez has been on the market for some time and has gained a solid reputation for providing realtors and real estate agencies with the tools they need to conduct business, both in the office and while on the go.
Advanced property search features, listings options, and Houzez' property management system are user's favorites, along with the fact that Houzez is drag and drop based which makes modification and customization easy.
Just when it was beginning to look like everything a user needed had already been invented and installed, the Houzez design team came up with a host of new features. While there are too many to list here, a Custom Fields Builder, multi-currency features, multiple show scheduling and luxury home show scheduling, listings sort options, and a variety of property display gallery formats are among the new features.
This powerful, user-friendly creative multiuse theme has all the functionality needed to create a breathtaking portfolio to showcase your work in a few brief hours. With Uncode, there's no need to worry about coding, nor do you need to start from scratch.
The best way to see what Uncode can do for you is to browse their collection of user-created websites. You'll be impressed and inspired by what you'll see in one of the creative ThemeForest top sellers of all time with over 50,000 sales!
TheGem was designed and developed to be the ultimate toolbox of web design styles, features and elements, and its authors appear to have hit it right on the mark. With TheGem you won't waste time coding. You can spend that time exploring your creativity.
This flexible website building tool features an abundance of multi-purpose design concepts, flexible page layouts, demo pages, and includes a multitude of ready-to-go WooCommerce stores!
This user-friendly and powerful plugin was designed and developed for businesses that rely heavily on accepting and managing client and customer appointments and bookings. Everything is automatic and everything is done online (human intervention is of course allowed).
Amelia will make appointments 24/7, match customer requests to employee availability, manage changes and cancellations, send reminders, and collect payments. For the less than a year, Amelia has 2000+ active users and 4.8+ user rating.
Some web designers prefer online builders, and some prefer offline builders. If you belong to the latter group, you'll love the way Mobirise gives you total control over your projects. Drag and drop only means that you won't have to concern yourself with coding.
Since Mobirise is based on Bootstrap4 or Google AMP, your websites and apps will be super-fast and 100% mobile friendly. Mobirise is free for both personal and commercial uses.
There are over 21,000+ users out there who won't hesitate to tell you they've found the best all-in-one solution for working with large amounts of data and presenting it in colorful, informative, and editable tables and charts.
With the wpDataTables plugin, you can manage thousands or even millions of rows of data in seconds; including MySQL, MS SQL, and PostgreSQL database queries. wpDataTables integrates with the leading form builder plugins.
Any website that does a great job of delivering a message is almost certain to perform well. Statistics show that personalized messages based on visitors' actions will do at least twice as well.
Logic Hop for WordPress makes it easy to personalize messages based on UTM codes, geolocation, on-site actions, and more. By using Logic Hop your clients will see higher conversions and have a better ROI. Make your clients happy with personalization.
Roundicons' Bundle places 38,000 premium royalty-free icons at your fingertips. They are yours to download for a one-time fee, and the number will just keep growing (the estimate is 10,000 new icons per year).
This icon bundle comes with a commercial use license. If you believe the world's largest icon bundle would be a great resource to have, use coupon code "GETBIG" when you order for a 20% discount.
With Goodie, end-clients can skip the usual design-build-launch steps and deal directly with the developers. If your small business in need of a website, or a web designer that's particularly fussy about careful coding, all you need to do is give Goodie your design, and Goodie will to the rest.
Goodie will keep the lines of communication open to ensure you'll get exactly what you want and expect.
8b is about as new as a website builder can be (January 2019 launch). It's futuristic and super simple in its design, and it's super simple to use. You're not stuck on one computer platform either.
With 8b, you can do some of your website design at home or at work on your desktop, some on a laptop, and some on a mobile device when you're out and about. Check 8b out while it's still free.
The Savah App is an advanced prototyping tool that gives you a powerful cross-company collaboration platform at the same time. Savah features a built-in design workflow and approval system, and it allows you to get visual feedback from team members and project stakeholders for all of your web and mobile app projects.
Affordable monthly paid plans are available, and you can also purchase an annual plan at a 30% discount.
You've come across the ideal font for use in your design. Problem is; you don't know its name, so you don't know how to search for it. When you're facing a needle in a haystack situation, it's time to call on an artificial intelligence system for help; which is precisely what www.WhatFontIs.com is all about.
Upload your mystery font image, and WhatFontIs will search its database of 550,000 commercial and free fonts and answer your query in seconds.
HelpJet translates to lightning fast customer service. HelpJet gives you a self-service knowledge base you can install that's designed to drastically reduce the number of customer support tickets and customer wait times while helping you keep your support team small in size.
The HelpJet knowledge base has the answers to the most common questions, or answers to any questions you care to input. No coding is required.
Conclusion
15 great tools and resources. You obviously don't need them all. Even one could make your day and transform a good website design into something awesome.
Whichever tools or resources you choose; you can rest assured they follow the latest design trends. They will keep you up with or ahead of the pack.